A memorial formed on the corner of Sahara Ave and Las Vegas Blvd on the north end of the Strip two days after the largest mass shooting in US history at the Route 91 Harvest Festival in Las Vegas, Nevada.
Flight mechanic Alex Morris scans the terrain on his side of the MH-60T helicopter on search and rescue operations out of USCG Air Station Elizabeth City following Hurricane Florence's tear through the state of North Carolina.
Amanda Parrish cradles her 23-month-old son, Braylon while waiting to be rescued from the Coast Guard. Stranded at their homes, members of the US Coast Guard rescue people from remote areas where all of the roads in and out are flooded and expected to have water levels rise.
ST. THOMAS, VIRGIN ISLAND- SEPTEMBER 25, 2017: From left, Jah'Leel Franklin walks down the hallway of his home, his father, Ray Franklin uses his machete to cut out dry wall to use as coals to cook and their pregnant neighbor, Kimmeiqua Mahoney, stands up from making johnny cakes. The Franklin's apartment was destroyed during Hurricane Maria.
GREEN BAY, WISCONSIN- NOVEMBER 23, 2020: John Deaton transports a 89-year-old Covid-19 patient from the ER to the Covid-19 ward at Bellin Hospital. Numbers of Covid-19 cases are rising rapidly in rural Wisconsin and many travel nurses have been working in Covid wards since April.
BARRE, VERMONT– JULY 18, 2020: Jefrey Scott Cameron's family place soil over the place where his urn will lay. Jefrey died from an accidental overdose on June 5.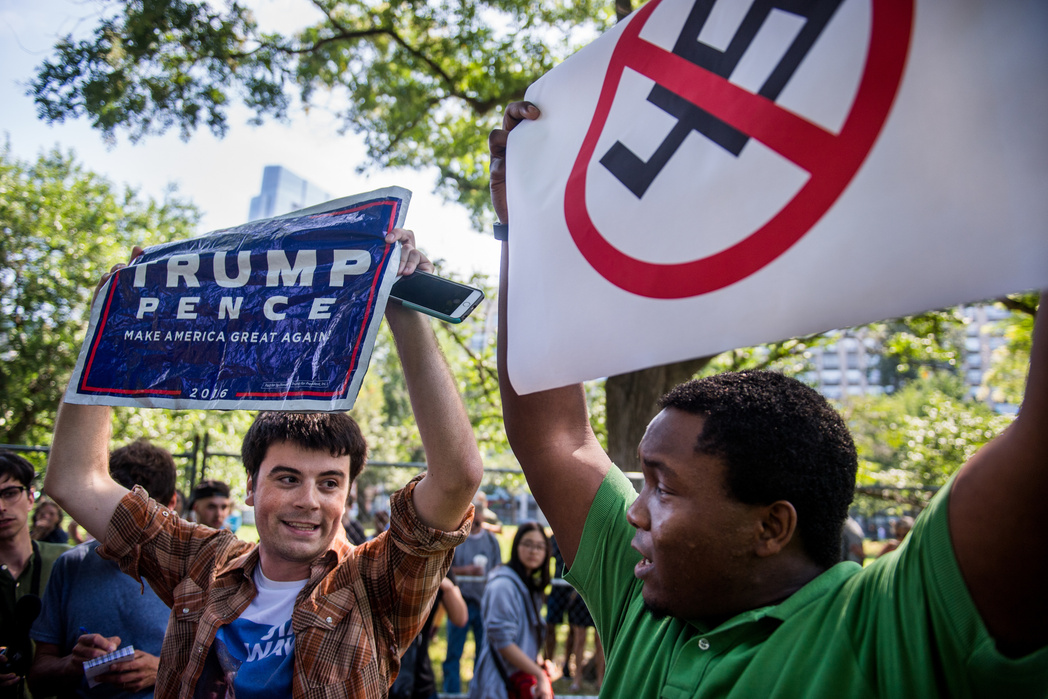 As "Freedom of Speech" ralliers begin to arrive at the Parkman Bandstand in Boston Common counter protesters meet them holding up signs and chanting. A Trump supporter who refused to give his name to anyone unless they work for "Breitbart, Fox or Infowars" stood next to a man who silently held up a sign with "45" (referring to President Trump being the 45th President) in the shape of a swastika.
Parker Wolf takes his belongings out of his tent after NYPD ask him and his partner, Mike Rodriguez, to leave their encampment under the BQE. The couple has lived there for two years but the newly instated NYC Mayor Eric Adams has declared all encampments illegal.
Johnny Grima, a resident of a homeless encampment known as Anarchy Row near Tompkins Square is arrested after refusing to take down his tent in May of 2022
Harvey Weinstein enters the Manhattan Criminal Court in Manhattan on Friday on charges that he raped one woman and forced another to perform oral sex on him.
President Trump boards Air Force One at Joint Base Andrews on his way to a weekend at his golf course in Bedminster, New Jersey.
WASHINGTON, DC- OCTOBER 13, 2020: Senator Kamala Harris (D-CA) interviews Amy Coney Barrett on the second day of the nomination hearings on Tuesday.
Larry Shak wears a bathrobe that says "Impeach China Joe." "I thought there'd be a better turnout, I'm disappointed. Thought people would be here to protest the inauguration." Empty streets and increased security at the state capital in Harrisburg, PA where violent protesters were rumored to appear on the day of President Elect Joe Biden's inauguration.
NYC Democratic Mayoral candidate Eric Adams is greeted by supporters and the Naked Cowboy as he arrives to the first debate against his Republican opponent Curtis Sliwa.
A woman closely related to Justin "Chuck the Chaser" Richey is embraced by Michelle Armstrong in Cypress Hills, New York. Richey was killed one day after his 16th birthday. Marchers chanted "Stop the Violence/ Love yourself," while walking from the place Richey was shot to the memorial where his home is. Ms. Armstrong is the mother to Latrell Brown, the 16-year-old killed just days before in Bed Stuy.
A crowd gathers at the Brooklyn Museum for the Brooklyn Liberation March on Sunday.
Goodnight Cemetery in Goodnight, Texas is part of Armstrong County in the Panhandle. Armstrong voted in the highest percentage per population in the state of Texas for Donald Trump in the 2016 election.
SOUTH ROYALTON, VERMONT– JUNE 6, 2020: Protesters wearing masks from Bread and Puppet Theater hold a sign with names of black people killed in police violence while a mother and two of her children take shelter under an umbrella during an unexpected rainshower. Over 600 Black Lives Matter protests gathered on the village green in South Royalton Vermont, population 600.
SOUTH ROYALTON, VERMONT– JUNE 6, 2020: BLM protest in Vermont
Mourners gather Wednesday morning at the funeral for Joyce Fienberg at Beth Shalom. Ms. Fienberg was one of 11 victims killed by a shooter at Tree of Life Congregation on Saturday.
LEH, LADAKH, INDIA -– FEBRUARY 10, 2019: Muzamil Hussein and Muzammil Ail Khan, 9, walk through downtown after playing hockey at Karzu Zing. There are several public rinks around town that locals like to frequent.
QUEENS, NEW YORK– MAY 24, 2020: Amber Oilett, right, helps get sand off the feet of her daughter, Kayla Jay Oilett, 9, while Bertha Anthony holds her other hand at Rockaway beach Memorial Day weekend.
US President Donald Trump and North Korean Leader Kim Jong Un meet for a summit in Hanoi on February 27, 2019. Streets are lined with officers, tourists and commuters as they wait for motorcades to go by.
Helmets are loaded onto a flight bound for Ukraine to aid in the fight against Russia
Senators prepare for Judge Kentaji Brown Jackson's Senate confirmation hearing trial
Tree of Life Memorial Park where three of 11 victims killed by a shooter at Tree of Life Congregation have been buried.